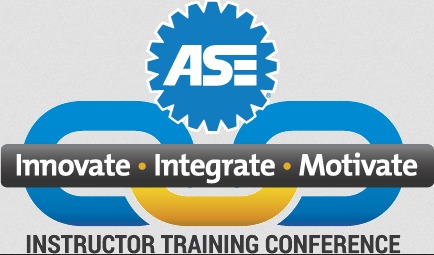 ASE Instructor Training Conference
July 26 - 29, 2021
Embassy Suites 5400 John Q Hammons Dr. Concord, NC 28027
May 15, 2020 Coronavirus Advisory:

Due to ongoing concerns surrounding COVID-19, we have made the difficult decision to cancel the 2020 conference. Our top priority is the safety of our instructors, technical presenters, and other attendees.
If you have already paid conference registration fees, they will be refunded in full. If you have received an invoice, you can disregard it. If you included payment for ASE testing, that will be refunded as well. You can register to take ASE tests at Prometric test centers at myASE.
If you made reservations at Embassy Suites or another hotel, you should separately cancel or confirm that those reservations have been cancelled. The phone number for Embassy Suites in Frisco, TX is 972-712-7200.
To assist you in completing your 20 hours of update training this year, we have compiled a list of free e-learning resources provided by more than 30 industry partners. The list can be viewed at www.ASEeducationFoundation.org/elearning . You may apply up to 5 hours of training on effectively delivering distance learning toward this year's 20-hour training requirement.
In addition, ASE is hosting hour-long webinars each Monday and Friday, featuring technical update training from top companies in the industry. The link to that and more can be found at www.ASEeducationfoundation.org/resources.

We appreciate your support and hope that we will see you at the 2021 ASE Instructor Training Conference in Concord, North Carolina, July 26-29, 2021.
If you have any questions, contact us at ASEconference@ase.com or 703-669-6650.
Save the Date!
For the 7th Annual ASE Instructor Training Conference! Get your 20 hours of technical update training, network with industry peers, and much more! Registration will open in early 2021 when you will be able to reserve your spot today to be part of the LARGEST Automotive Instructor Training Conference in the nation!
Who: Any high school or college auto, collision, or truck instructor
When: July 26-29, 2021
Where: Embassy Suites, Concord, NC (near Charlotte)

Monday, July 26, 2021:
Travel Day
ASE Testing Available
Conference Opens with a Welcome Reception
Tuesday, July 27, 2021:
Technical Training Sessions Begin
Sponsor Expo
ASE Testing Available
Wednesday, July 28, 2021:

Technical Training Sessions Continue
ASE Testing Available
Thursday, July 29, 2021:

Technical Training Sessions Continue
Conference Ends at 5pm
Questions? ASEconference@ase.com or 703-669-6650.
Missed the last conference? Take a look at the 2019 Sessions Program!