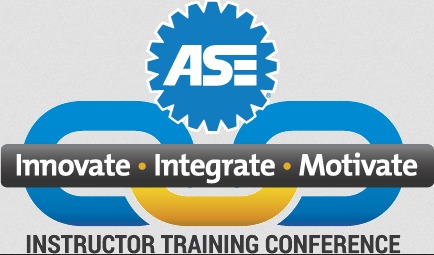 ASE Instructor Training Conference
July 22-25, 2019 *Technical Training begins at 8am on 7/23/2019
Embassy Suites in Frisco, TX 7600 John Q Hammons Dr. Frisco, TX 75034
Registration:
Accredited Programs: $550 per person
Non-Accredited Programs: $650 per person
*Optional $45 Networking Dinner Event at Dr. Pepper Ballpark
Hotel: Book at discounted rate: https://embassysuites.hilton.com/en/es/groups/personalized/D/DALFSES-ASE-20190722/index.jhtml
$155/night
Meals Included:
Breakfast (only if you stay at host hotel, Embassy Suites)
Lunch Tuesday-Thursday
Monday evening Reception (not dinner)
Wednesday evening dinner (if you go to the networking event at the ballpark)
Networking Dinner at Frisco's Dr. Pepper Ballpark:
$45 (includes dinner and ticket to admission)
Highlights:

Get your program required 20-hours of update training! Topics cover Auto, Collision, and Truck.
ASE Testing will be available on site.
Featuring keynote speaker, Michael Brustein, Partner at Brustein & Manasevit PLLC. Michael will be discussing how to access federal funds to support automotive programs, activities that may be supported, helping us understand the relevant legal requirements, and changes between Perkins IV and V.
Join us at this event. Seats are limited!

Registration Opening Soon!